The 'Mount' is surf City New Zealand. It's like a quintessential California beach town, only better. Better because there's an extinct volcano rising abruptly off this white sand beach and an artificial reef placed just offshore to kick up more waves. Thus, not only do you get to watch the surfing action from the sunny beach, you also get to watch heaps of paragliders float down onto the beach from the top of the 232m Mount.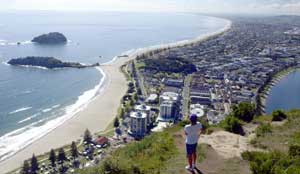 Walking to the top of 'Mauao' provides a killer view of everything - bay, ocean, beach, and Matakana Island. Part of Mt. Maunganui's charm is that everything is packed close together - you can walk everywhere once you find a parking space. The main drag is full of fun and funky cafes, surf shops, hip retailers, and quirky curiosity shops. The town is made for fun!
And, as fun as the town is...the beach and bay are better! Surfing, volleyball, boogie board, kayak, jet-ski, cliff-jump, wakeboard, kite-board, fish, swim, paraglide, trail run...all within 1km. Then you've got the super popular tracks up and around Mauao. You can circle the volcano for an easy stroll or take either the difficult route up (20 minutes) or the easier way (40 minutes). Needless to say, the view at the top is epic - bring binoculars and you'll be entertained for an hour.
Rain or shine (mostly shine on the sunny East coast). Mt. Maunganui is the bikini capitol of New Zealand. Of course when it's sunny the bikinis are on the sand, but when it clouds over the bikinis don't hide, they just walk 200m to the famed Hot Water Pools. Directly under Mauao just steps off the beach you'll find a large pool complex full of naturally heated salt water. For $9pp you'll slide into pools big and small, hot and hotter. There's massaging fountains, underwater benches for hanging out, and kids play pools...with showers and changing rooms. Open until 10pm daily - the perfect rainy day spot, or a great nighttime unwind after a full day of Mount fun.