Piha is the centerpiece of Waitakere's beaches. Piha is where the 'action' is, Piha is reality TV, Piha is funky, Piha is proud. Piha is 'Endless Summer' surf on the wild West Coast.Piha has the only commercialization... but it's no Whangamata or Mt. Maunganui..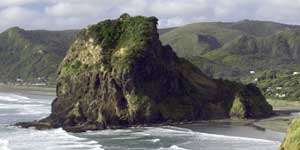 In Piha everything is low-key - you can get some fish n' chips, a pint or two, a coffee and a donut, and maybe rent a surfboard or buy some togs. There's a Domain campground and an ice cream stand. That's it. The notion of a commercialized cafe sent the community into a heated frenzy. Long live Piha...I love it!
Piha is definately the most beautiful Wai-tak beach to drive to - as the road descends theres a couple of pulloffs that showcase Piha in its blacksand 'n' aquamarine surf glory - one of the West Coast's must stop photo-ops! Uniquely, Piha may be the only West Coast beach with a major access road that descends from an above viewpoint. Yay Piha!
One down at the Piha Stream you've got three options. Go left for the Surf Club beach. Straight is the campground, Dairy, and the long northern beach. A right turn onto Glen Esk road leads to the bush tracks trailhead.
Here's some explorations:
Lion Rock. The distinctive monolith that divides the beach and kicks up the waves. A short stepped track heads up the lion's back. For a photo of the reclining 'lion', you need to be at the south viewpoints. Midday photos suck when the lion is backlit, but...at sunset the light creeps around the lion's mane and, Whoa, the lion roars to life!
The Gap. Quite astonishing! Head 10 minutes over the south viewpoint headland, or at low tide just rock-hop into the Gap. At low tide the Gap is a sandy beach hidden between towering rocks with a neat cave to explore. At mid tide the waves bash at the Gap's mouth in an impressive show of spray. At high tide the Gap is a heavenly calm swimming pool. Dont miss it!
White's Beach. From the very north end of Pha's Beach a short track heads up and over to this secluded beach. At the saddle an adventure track heads steeply down while the upper track descends more gently. Interesting tide pools
and sea caves await. From White's saddle Anawhata Beach is about 2km more.
Kitekite Falls. This waterfall may be Piha's most overlooked charm. No signage at the beach indicates the abundance of track options at the end of Glen Esk road. Lonely Planet and those famous guide-books dont bother.
The waterfall is a stunner! The lookout bench on the Byer's track displays the 3-tiered falls in all its 90m glory. The Byers track makes a loop (20 minutes to the falls). Lengthen your adventure by heading to the top of the falls or maybe over to Home track or Piha Valley track. (AWOL Adventures does canyoning trips down this waterfall.)
Black Rock dam. Thisis a minor canyoning loop. Take the Piha Valley track about 30 minutes to where it descends to cross Piha Stream at the remains of the Black Rock Kauri dam, (just past Centennial track). From here you can scramble, climb, lower and splash in the streambed about 1km downstream to get back to the Piha Valley track. This tramp's only for athletic and competent adventurers