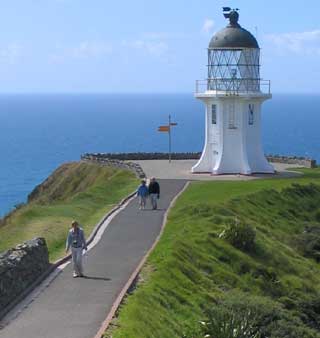 As touristy as this classic lighthouse can be (150,000 people per year), the fact remains that this lookout is truly beautiful and unique. The seas actually do meet here and it's fun to watch the waves explode into each other, creating angling lines of spray.Notice the checkerboard pattern where the waves criss-cross on the beach below Sweet as!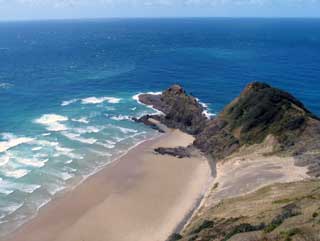 The famous Pohutukawa tree, visible on the east side of the far rocky cape, is reputed to be 600-800 years old and represents the legendary departure point for Maori spirits on their way to the afterlife in Hawaiiki.

You may feel your spirit depart also if you're enjoying some rare solitude on the Cape when a gaggle of tour buses arrive and belch a wave of snap-happy 'holiday makers'. In Summer it's hard to figure out the timing to avoid the buses because their arrival times change with the low-tide timing of 90-Mile beach (they leave Paihia, drive 90-Mile at lowish tide, surf dunes, head to Cape). Your best bet is early morning or late afternoon.

From the carpark you can walk down 20 minutes to either Te Werahi or Sandy beaches -

but the carpark is at 180m, so be prepared for steep uphill coming back. Te Werahi is long and lonely. Sandy is a delightfully gorgeous small cove with a stream. At Tapotupotu Beach you'll find a campground peopled by folks who have driven down.