I know you're wondering...is the drive worth it?? 67km in, no loop road out...is a visit to Castlepoint worth it? Yes, emphatically YES! Even Kiwi 'locals' are surprised how nice it actually is when they finally venture out!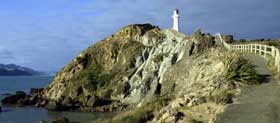 Castlepoint is the jewel of the Wairarapa coast between Napier and Cape Palliser. It's not a big place, but it's packed with interesting attractions to see and do and photograph. Only one bummer - the water at Castlepoint is probably the coldest of anywhere on the island.
Here's a rundown of options:
The picture-perfect lighthouse stands sentinel atop a half-mile limestone ridge jutting out into the sea. Easy boardwalk tracks lead to it and around it.
The limestone sea ridge extending from the lighthouse is fascinating! Walk the ridge to see waves bash, waters spout, gullies surge, and shells fossilize.
A hidden cave under the lighthouse beckons adventurers...no wait, more then a

cave... an actual tunnel out to the sea. No wait, more than a tunnel...a huge cavern. Extraordinary! Limestone cave formations washed by waves - where else can you see that? Go at low tide only, wear sturdy footwear, and bring torches. Once inside head left for WOW.
Seals sometimes guard the cave's entrance...bring your camera!
The Deliverance Cove lagoon hosts a pretty good and protected surf break, as well as packe wetsand which enables you to drive a car over to the far surf-break at lower tides.
CASTLE ROCK towers 162m above the lagoon and sports an epic view of everything! A track heads up from the surf beach, but you can also make a nice loop with a track that begins at the carpark.
Christmas Beach, beyond Castle Rock, is perfect for some Adam 'n' Eve frolicking. No ATVs, no Utes, and no people...and too far for Castle-climbers to see whether you're wearing togs or jus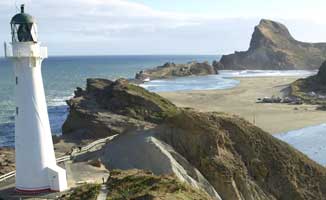 t smiles. From the Castle backtrack up to the western fenceline then scamper 7 minutes down the gully to the beach.
Jetty Road Beach fronts the main drag through 'town'. Good for long walks and sunrises.
Castlepoint town is mostly baches, but it includes a Dairy with groceries and gas and also a pub and restaurant for celebrations.