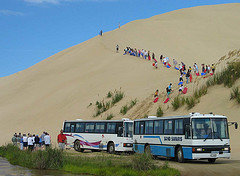 I love these golden dunes. I love the way the stream cuts through them. I love driving my van up and down the streambed…splashing, weaving, having fun. I love sunset from the dune-top. I love leaving via 90-Mile Beach.
The Te Paki Stream "quicksand" myth is totally overblown by the tourist operators who shuttle daily busloads of sheep up here from tourist land. In summertime this stream is only inches deep. Of course don't drive the stream when a raging storm is dumping rain—duh. Keep your car moving and you'll have no problems. There's plenty of wetsand terraces to pull-off, park, or turn around. Of course don't park in any moving water—duh. If you do park…to climb the gorgeous dunes, ride a boogie board, get another beer, whatever… analyze the sand you step out on...is it squishy? Some saturated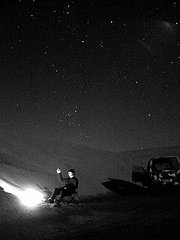 sand CAN act like quicksand, but unless you're an idiot you'll know pretty fast. The most dangerous aspect of Te Paki for an adventurer is probably getting splashed by one of the many "adventure-tour" buses charging through the stream.
Overall, Te Paki Stream isn't scary. Any Volkswagen Beetle can rumble through it. When you first arrive, park and walk a bit of it first (I did.) Maybe it's not your cuppatea. Wait to watch other cars if you're apprehensive.
But here's my take on this place: The BEST WAY to celebrate Northland's incomparable charm is to drive circles in Te Paki, cruise down 90-Mile with a brimming chilly-bin, get fish 'n' chips at Ahipara's "Bidz Takeaways," then drive up to Ahipara's viewpoint to eat, drink, and toast this magic island!